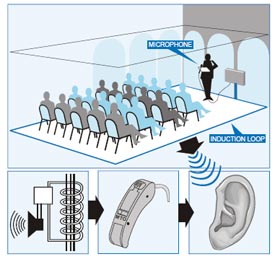 INDUCTION LOOPS FOR CHURCHES, TOWN HALLS, VILLAGE HALLS AND LARGER VENUES
An induction loop system (also known as a church hearing loop system) is an assistive hearing system that enables hearing aid users to listen to services without the excessive background noise that is produced from the hearing aids inbuilt microphone when they increase the volume. The sound source, for example a microphone is plugged into a loop amplifier which feeds a loop cable fixed around the perimeter of the Nave. The audio signal is transmitted from the loop cable and picked up by the coil housed within the hearing aid. The hearing aid user simply switches their hearing aid to the 'T' position to hear clearly. Please note, only hearing aids with a T switch will pick up the signal from a induction loop system. Church hearing systems can be integrated into existing sound systems or installed as 'stand alone' systems with dedicated wired or wireless microphones.
Disability Discrimination Act (DDA) 1995 Compliance
What is the Disability Discrimination Act (DDA) 1995?
The UK Disability Discrimination Act (DDA) of 1995 aims to stop discrimination against disabled people, including people who are hearing impaired, deaf and hard of hearing:
in the workplace

in education

when accessing goods and services
Goods and service providers include: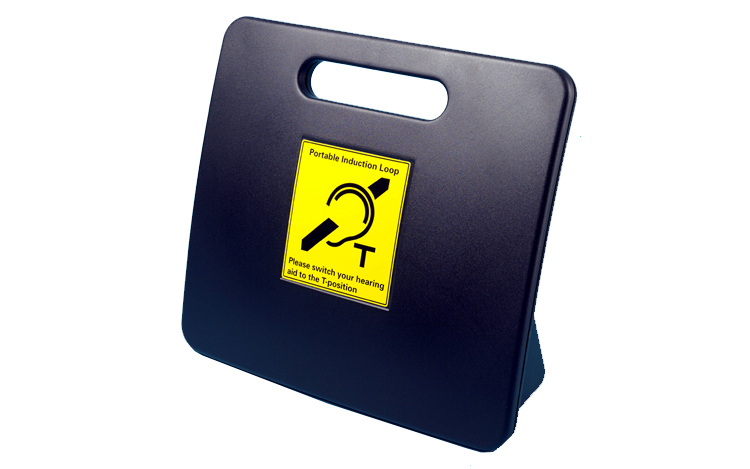 Theatres, cinemas, places of worship, conference halls, banks, courts and tribunals, supermarkets, airports, shopping centres, training centres, bus and train stations...
Employers must not discriminate against their deaf and hard of hearing employees and potential employees. In particular, they must ensure that their staffs are not placed at a substantial disadvantage as a result of their hearing loss, for example, by not being able to hear what is being said in an interview or a staff meeting room. You could overcome this by providing an induction loop in the meeting room or a small portable induction loop for the one-to-one interview. This would be a reasonable adjustment.